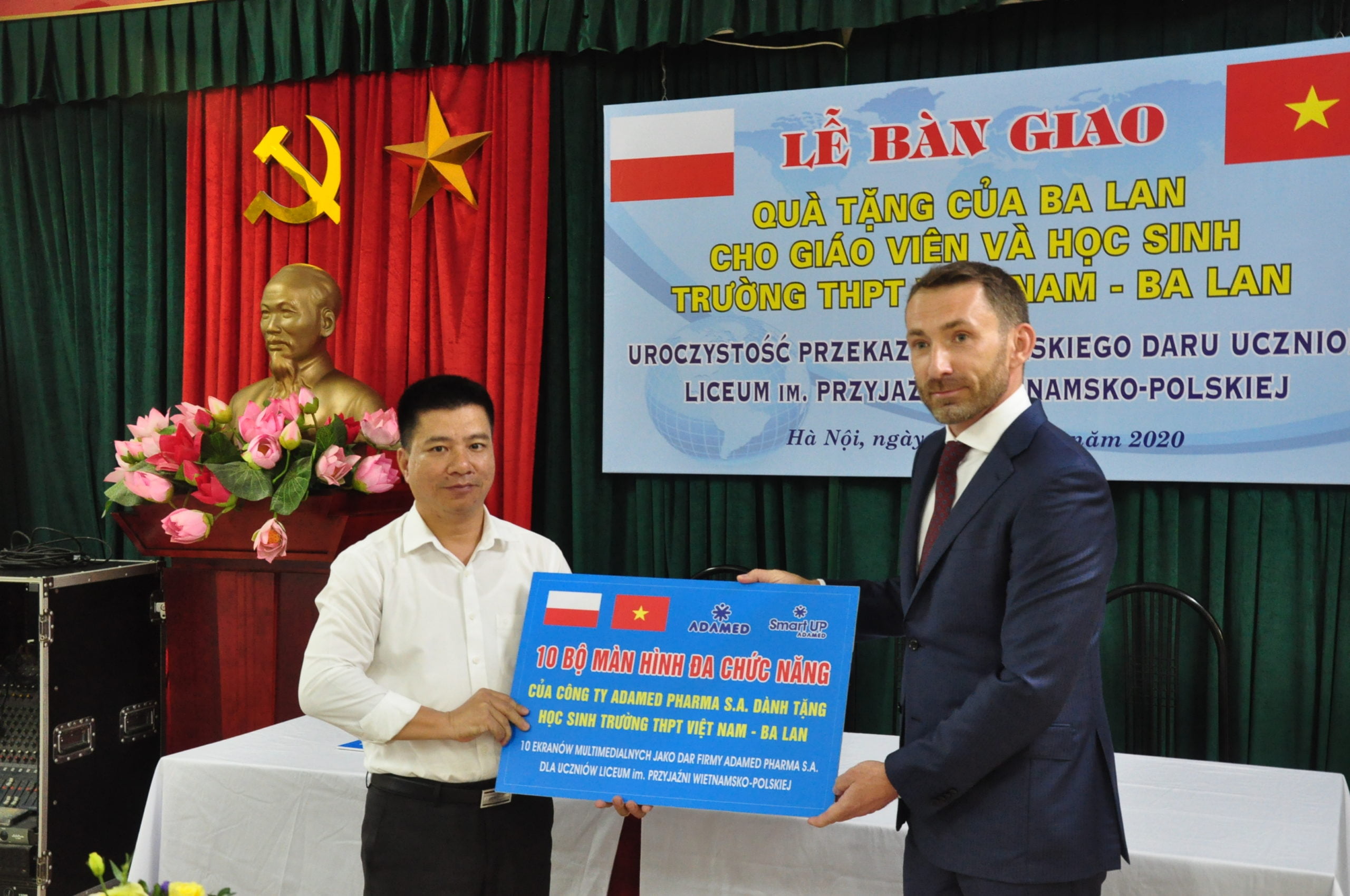 ADAMED SmartUp Vietnam is back!
On 28 October 2020, representatives of Adamed Pharma S.A. and its local company Davipharm (Dat Vi Phu Pharmaceutical JSC) attended the ceremony of the official handover of the digital screens and computers to the Viet Nam – Ba Lan High School in Hanoi. The event was organized in partnership with the Embassy of Poland in Hanoi. It is the second time when Adamed and Davipharm join hands together with the Embassy of Poland to support students of Hanoian school.
Last year, twenty (20) digital screens have been funded and installed in the classrooms in the cooperation between the company and the Embassy. This year, Adamed funded 10 more digital screens, while the Embassy of Poland equipped the school library with the computers.
The handover of the screens and computers was combined with the launch of the 2nd edition of the educational program ADAMED SmartUP, through which Adamed Foundation has been supporting and inspiring the most talented young people. The Program run since 2014 in Poland, has expanded to Vietnam in 2019 as the first and only foreign country in consequence of a prior investment of Adamed Pharma in Vietnam in one of the fastest growing Vietnam's pharmaceutical companies – Davipharm. But it is also a part of social responsibility policy of the company.
This year in the 2nd edition of ADAMED SmartUP, 100 spots have been opened to students of all grades of the Viet Nam – Ba Lan High School. Those who qualify will attend the intense English course with native speakers and will join the environmental workshops, also in English, with Polish expert.
"We sincerely hope that the school's digitalization and our educational Program ADAMED SmartUP help students to develop interest in science, grow their passion for knowledge and enhance the attractiveness of education at the school's premises. We also believe that it significantly supports our planet by limiting the number of printouts used during the classes, teaching about the waste treatment and other aspects of environmental engineering in context of the environment protection." – said Michal Wieczorek, the CEO of Davipharm. Since 2017, when Adamed Pharma S.A. became the majority shareholder of Davipharm, the investment in the pharmaceutical factory in Binh Duong reached almost USD 10 million. Davipharm's multinational team of experts work on the implementation of EU-GMP standard to provide trusted high-quality medicines at affordable prices for Vietnamese patients and for export.